Product name: Palm print simulator -LED strip version
Brief introduction
The simulator will be triggered when adventurers put IC card onto specific place, then they will get access to open a 12V EM lock when player touch the palm print simulator with his palm for 3 seconds.
Details introduction
1. This prop mainly consists of one palm print simulator controller with a IC card reader. Players will see a palm printer scanner on the wall after entering the room.
2. Under normal conditions, when players touch the palm print screen ,the LED strip under the palm print scanner will be light circularly to recognize the player's palm.
Due to the fact that the props are not triggered, there will be red lights flashing on both sides to inform identification error. The red light goes out when the player's palm left, also the door keep closed .
3. Until players find one IC card in the room according to previous puzzles, Simulator will be activated when put the IC card onto the IC card reader, Then players can open 12v lock with audio when they keep touching the palm print scanner for 3 seconds. Meanwhile the green light flashes twice then will be always on.
Version Introduction and Reset
1. IC card activation version: The prop triggered when IC card close to green IC card reader. Take IC card away from the IC card reader to reset.
2. Metal object activation version: The prop triggered when metal objects close to metal sensor. Take metal objects away from the metal sensor to reset.
Product highlights
1. Support external activation mode. For example, IC card activation version, metal activation version. If you need other triggering mode, you can let me know.
2. Users can change the audios of their own in SD card.
Prop list
One controller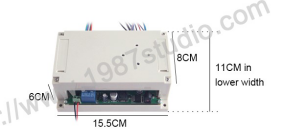 One palm print scanner with 3 touch points and 8 section LED strip behind it. (Size: 28.3cm*33.2cm*2cm)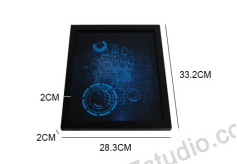 One sensor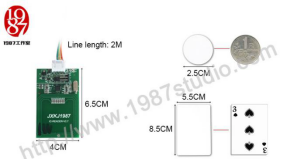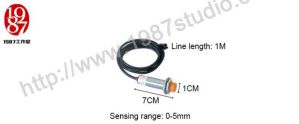 One 12V power supply

Kindly remind
Palm print simulator is a handmade prop. It composed of wood and acrylic board, there will be some flaws, but it doesn't have an influence on the usage effect. Please think carefully before you buy it if you mind this.
Audio configuration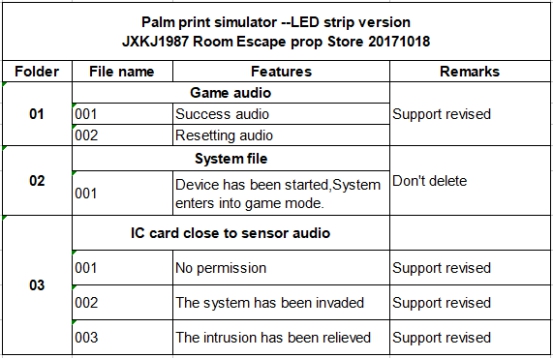 How to connect with 12V electromagnet lock?
The red wire of the controller should be connected to the red wire of the magnet lock.
The black wire of the controller should be connected to the black wire of the magnet lock.