Product name: Light up the lights
Brief introduction
There is a manual generator in the room but its handle is hidden. Players should figure out some puzzles and find the handle previously then connect it to the generator. When players rotate the handle, the generator begins to provide electricity for 8 lights. Adventurers should keep rotating the handle quickly if they want to light up all the 8 lights. When all the 8 lights are turned on, one 12V EM lock will release with audio.
About usage
How to reset?
Rotating the handle for another 15 seconds after triggering the prop successfully to reset it.
How to connect the wires?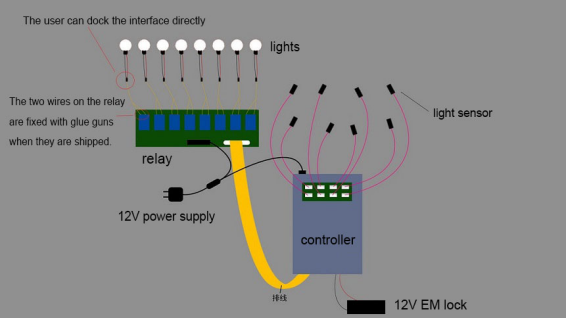 Product highlights
1. Room owner can revise the game audio via micro SD.
2. This prop is widely used in escape room games. Generator can simulate the survival environment and make it very real.
3. This prop is quite suitable for the desert island, ruins, tombs and any other power shortage environment.
4. Room owner can revise the quantity of the lights from 1 to 8.
Prop list
One generator with handle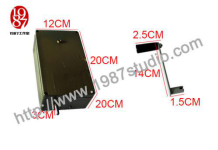 One controller with 8 relays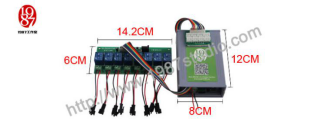 Eight lights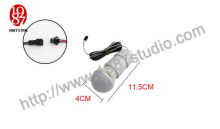 One cable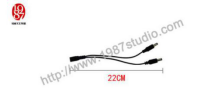 One 12V power supply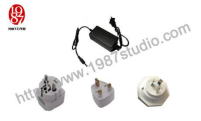 How to connect 12V EM lock?
The red wire of the controller should be connected to the red wire of the magnet lock. The black wire of the controller should be connected to the black wire of the magnet lock.

How to change audio files?
Owners can change audio files via SD card in the controller.
Attention: please make a copy of the original sound files in your computer in case of wrong operation.
1.Sound file must be MP3 format. Just changing the suffix of the file directly is invalid.
2.The path cannot be changed, if you revise sound files from 01 folder, then you put it back to 01 folder rather than other folder.
3.File names cannot be changed, keep the file name same as original.
More details, please check the video via this link:
https://www.youtube.com/watch?v=bgWvqwqJGGo
Audio configuration